Location & Contact
Welles-Turner
Memorial Library
2407 Main Street
Glastonbury, CT 06033

GET DIRECTIONS
Main
Lending
Reference
Children
860-652-7719
860-652-7719
860-652-7720
860-652-7718
---
Hours
Mon, Tue, Thu 9am-9pm
Wed 12pm-9pm
Fri 9am-6pm | Sat 9am-5pm
Sun 1pm-5pm
(Closed Sun, mid-May – Labor Day)

Teens
Welcome teen visitors!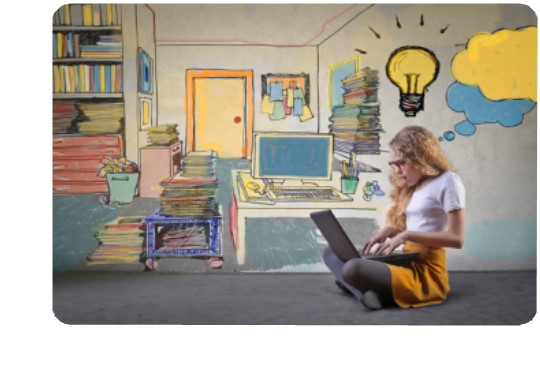 Since you've arrived here @ wtmlib.info, you know that you can visit us virtually as well as at our Main Street scene. You might be surprised, though, by all that there is for you here. So, as long as you're here, take a look around …
Did you know that you can also visit us on Facebook? We look forward to your visits – in person, on Facebook and, here, on our web site! You can also reach us by phone at 860-652-7720.
Looking for reading recommendations from fellow teens? Check out YALSA's 2018 Teens' Top Ten Winners.
Calling all teen artists!
The Welles-Turner Memorial Library is seeking an out-of-this-world design for this year's Summer Reading Program T-shirt. The 2019 summer reading theme is "A Universe of Stories." From February 19 until 5pm on March 15, we will accept submissions for artwork to appear on our teen and adult shirts – shirts worn by hundreds of people in and around Glastonbury. This is your chance to show the universe how creative you are!
Pick up an Entry Form at Reference, or

click here to print a copy. The winning design will be chosen by library staff on March 22. The winner will be notified, and the design will be unveiled to the public at the start of the Summer Reading Program in June.
Guidelines:
Participation is open to teens in grades 7-12.
Each participant is allowed to submit up to three (3) entries.
Designs must be black-on-white line drawings and include one of the following slogans:
~ "A Universe of Stories"
~ "Take Me to Your Reader"
~ "To the Library … and Beyond!"
Artwork must be original, appropriate for all ages and fit on an 8.5" x 11" piece of paper.
An entry form must be submitted with your artwork. Forms are available on our library website and at the Reference Desk.
Entries must be received by 5pm on Friday, March 15. They can be dropped off at the library's Reference Desk or by email to meghan.withers-tong@glastonbury-ct.gov.
For more information, call the Reference at 860-652-7720.
Teen Scene
Upcoming Events
College Entrance Exam Practice Sessions

Who: Students in grades 9-12
When: Various dates and times – see CALENDAR
Place: Library's Friends Room

The Welles-Turner Memorial Library is partnering with C2 Education to offer free full-length practice tests for the PSAT, ACT and SAT for local high school students. Participants will get to experience a real test environment and will receive a score report with a comprehensive analysis of strengths and weaknesses via email. Please bring your own calculator and pencils – all other supplies will be provided. Seating is limited, so reserve your spot online or by calling the Reference desk at 860-652-7720.

To register for the Saturday, April 6, 2019 session, click here.
Mug Cakes for Teens

Who: Teens ages 13-18
When: Thursday, March 28, 2019
Time: 6:30-7:30pm
Place: Library's Friends Room

Image © nito/Fotolia.com

Teens, join us at Welles-Turner Memorial Library when we make microwave mug cakes! We will have a variety of recipes available and will provide all of the supplies. We will be eating our mug cakes during the program, so come with an appetite! Register online or by calling the Reference desk at 860-652-7720.

Chocolate Make-and-Take Program for Teens

Who: Teens ages 13-18
When: Tuesday, April 16, 2019
Time: 3-4:15pm
Place: Library's Friends Room
Teens, come join us for an afternoon all about chocolate! This program highlights young chocolate entrepreneurs, the history of how chocolate is made and where it comes from, and fun chocolate trivia. We will also make chocolate creations to take home using various techniques of dipping, decorating and combing. There will be a demonstration and use of a commercial tempering machine, toppings bar and more! Space is limited, so registration is requested, online or at the Reference desk at 860-652-7720.
Allergy warning: Chocolate used in this program is produced in facilities that use tree nuts and coconut.
Image © yvdavid/Fotolia.com
| | | |
| --- | --- | --- |
| | YALSA* has announced the 2018 Teens' Top Ten winners! Teens across the country had the opportunity to vote on their favorite titles and, following Teen Read Week (October 7-13, 2018), the winners were announced. Click on the video link (at right) to view the 2018 Teens' Top 10 winners! | |
The titles nominated for the 2018 Teens' Top Ten are as follows (in order by title). The winners' rankings are indicated below:

*YALSA - Young Adult Library Services Association



Driver Education
Driving-Tests.org offers free DMV permit practice tests for new drivers, including: • car practice tests • motorcycle practice tests • CDL (Commercial Driver's License) practice tests • online driver's manuals (car, motorcycle, CDL) and • an FAQ section with detailed answers to 100+ DMV-related questions.
For all library events, see the CALENDAR.
Images on this page subject to copyright; used with permission.